A New Location Every Day
CEO Business Visits
---
Frantz Manufacturing Company
John Govozdjak, President
CEO students were greeted by John Gvozdjak, President of Frantz Manufacturing, on Tuesday morning. They learned a brief history and evolution of a company founded by a creative innovator, Peter Frantz. From steel rod to balls, wheels, and bearings, students were educated in the world of hardware needed for conveyors and other products. As students toured the plant with Steve Gassman, Plant Manager, and Jim Batten, Maintenance and Tool Room Supervisor, they learned about safety, machinery, automation, and processes. The impressive wall of fame was covered with hundreds of products. The visit concluded in the conference room with students asking great questions about profit margins, competitors, and more. John finished with a lesson on conducting effective meetings, the importance, roles, and required deliverables. 
---
Niki Hunt, Photography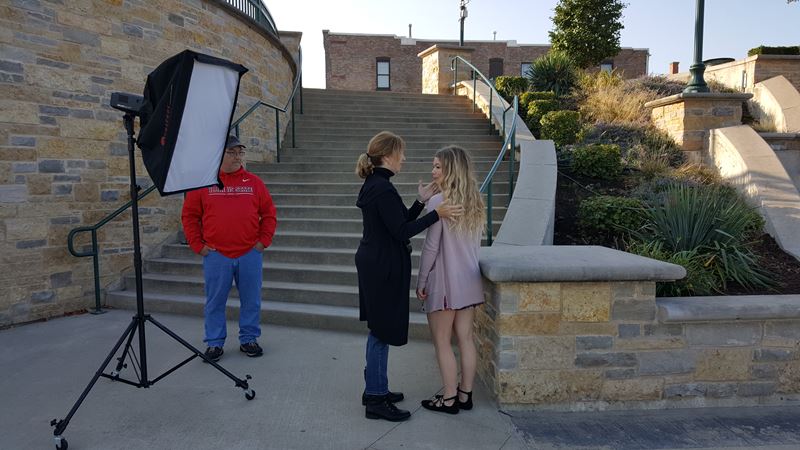 Very soon CEO students will have professional individual and group photos on our webpage. We greatly appreciate NIki Hunt and her husband's time, as they joined CEO class Wednesday on the Dixon Riverfront. We can't wait to see the professional results from Niki Hunt Photography, Oregon, Illinois. Of course with every photo shoot there's bound to be the silly picture to get those smiles going! 
---
Sauk Valley Properties
Beth Wilson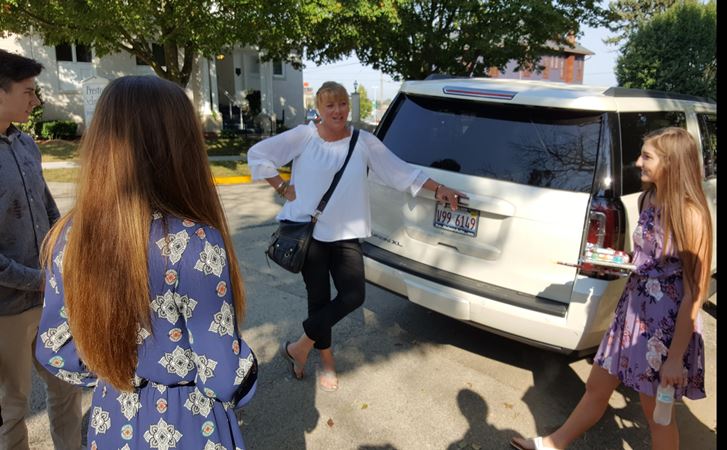 Even as the CEO students walked to their cars at the end of the class, they were still listening to business owner Beth Wilson. On Thursday, they gathered at one of Beth's rental properties which is in the process of being rennovated. She gave an overview of the real estate business, touching on many topics from required education to learning how to work with a variety of people. She mentioned topics the students will spend more time investigating in the future, such as exit strategies, risks and rewards, and LLC and partnerships. Students enjoyed breakfast while Beth answered a multitude of questions. 
---
CEO Board Meetings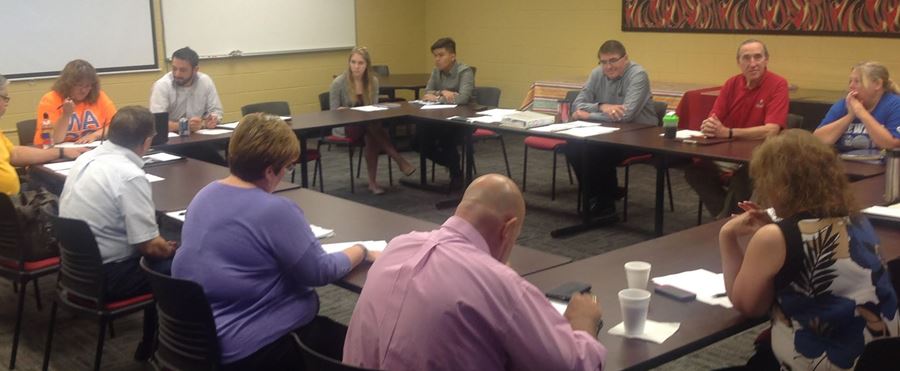 board meeting
CEO board meetings are scheduled the third Friday of every month. This working board, made up of volunteers from the business and education fields, manages the finances, student recruitment and selection, marketing, and more. They are often visitors to class and active in many events such as orientation, mentor match night, personality analysis, class business, and trades show. We are fortunate to send a couple CEO students to each meeting to report on class and also learn and undertand the processes of a functioning board. It is yet one more great opportunity to practice communication skills and learn firsthand about board meetings. This month Kurt and Kortney joined the discussion. 
---
Student Journal Highlights for this week
What Reading Has Done For Me

Before the beginning of last summer, I had absolutely no interest in reading. Before, in the classroom, I had enjoyed reading some books like Hatchet by Gary Paulsen in the past. Beyond that, though, my interest for reading ran dry. As of now, that is a different story. I started reading business books from Dale Carnegie to Gary Vaynerchuk and it is great how even if I didn't get anything from the book, just the fact that I read it is a great networking tool. For example, at Moore Tires, Jeff Moore mentioned how he admired Gary V for his statement that any advertising platform that isn't digital is dead. Coincidentally, I know exactly what book that is from, the one I read two months ago - "Crush IT". After we were dismissed, I quickly thanked him for having us tour the building and mentioned how Gary's book is one of the greatest business books I've ever read (which was true!). His face instantly lit up, and we conversed about the book and thanked me for coming. It may seem like something that small can't make a difference, but it does, and it can mean the difference between a stranger and someone you'll remember.

Jack Williamson
Sunday, September 10, 2017Learn More About Jack
I think anyone that has ever met me could probably guess that I know absolutely nothing about cars or tires, nor have I ever previously cared to. This coupled with the fact that I am also terrible at driving to unfamiliar locations, didn't exactly leave me excited for our visit to Moore Tires on Wednesday morning. Don't get me wrong, I am always happy to learn about new things and I am keeping a completely open mind about all of these businesses, but I just wasn't having the greatest of mornings. As soon as I heard Jeff Moore's presentation, my opinion really changed. Actually, it started to change almost the minute I stepped into the door of his Rock Falls location. I had never expected a business of this sort to be so inviting and customer-friendly. Even though I have always wanted to attend college, I am a firm believer that college is not a good fit for everyone, so I was really impressed with Jeff's honesty about the way he got his start. Unlike many successful people nowadays, he was happy to share that he grew his company without much initial money and no degree. Instead, he talked about work ethic and the necessity of building relationships. Perhaps the most impressive piece of our visit was the way he asked us to critique his business and took every single thing we said into consideration. I have the utmost respect for people that can stay as humble as he is. Throughout the rest of my week, I started to look more closely at the details of all of the business I drive past on my way to and from school and dance. I couldn't stop thinking that if all of those business owners were willing to accept feedback and criticism the way that Jeff was, they would be opening their companies up to so much more potential for growth. Business shouldn't be about pride, but rather the continuous goal to improve.

Kallie Timmons
Sunday, September 10, 2017Learn More About Kallie
Going to Moore's Tires this week was easily my favorite person we have had the pleasure of meeting. I found his presentation to be very helpful in comparison to others because he didn't make it a point to speak about his product, and just spoke about his process in starting his own business and how he has continued it. I personally thought other people were less interesting because they were trying to sell to us, or speaking too much about their product; not that speaking about the product is a bad thing, but that is not the reason I am in this class. I liked how at Moore's Tires, he allowed us to critique his business so that he is able to continuously make improvements. That spoke volumes regarding staying stagnant with your business, and how that is never a thing that you should want to be. His constant attempt to further his cliental basis proved the dedication he has to what he does. Jim Keenan also proved his loyalty by his story of him viewing himself as someone that helps people, rather than a salesman, which is truly important. I found Keenan to be very intelligent in his opportunity to speak to us also because of the amount of marketing he did. His name, picture, and contact information were everywhere on the materials he gave to us. I find insurance and the practice of sales to be particularly interesting, and am excited to come into contact with more people like him, hopefully using them to my benefit in the future. 

Victoria Dingman
Sunday, September 10, 2017Learn More About Victoria
---