Peace
Mitch Clodfelter, German De La Cruz, Sam Hildebrand, Gehrig Koerner, Kade Kovarik, Hannah McCarty, and Kallie Timmons represented their peers at the Chili Cook-Off taking home the People's Choice Award.
CEO Business Visits
---
It's Chili Time!
United Way Chili Cook-Off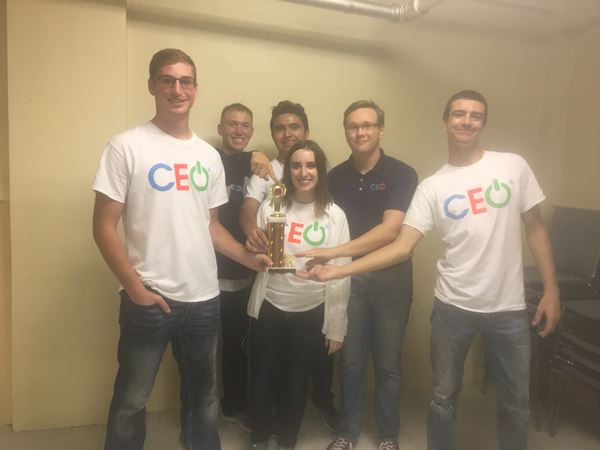 The weather made for a challenging event, but once the tent was secured, thank's to Mitch's dad and the sandbags he brought, and the chili underway, there was time to tidy up the camp. It became clear that our "chili" snowflake-themed idea was
not
going to win a prize for best site, when up against other camps sporting pumpkins, rocking chairs, and yes, even an outdoor rug! While the soup heated, there was time to relax with a card game and get to know each other better. It was fun to serve participants our delicious white chili and accept the People's Choice Award as the rainy day came to a close. CEO is proud to be a part of local events and raise money for a great cause. 
---
It's All Business
Emily Zimmerman, David Buchen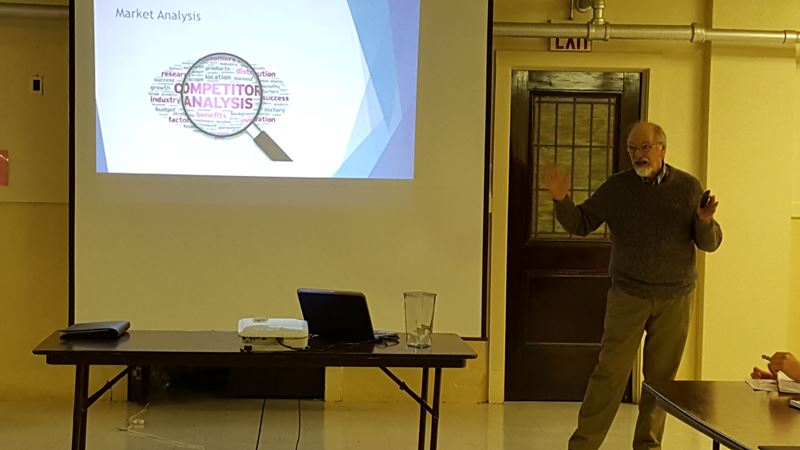 David Buchen, Director, and Emily Zimmerman, SBDC Specialist, covered the topic of "business plans" in CEO class on Tuesday. The Small Business Development Center is located at Sauk Valley Community College. Students learned the many components in detail, from company description to finances and everything in between. They are each preparing to write their first business plan for their idea for a class business. Join us on October 30 as each idea is pitched in an effort to convince peers that it is the best. Next, a class decision will be made on which idea to carry forward. 
---
Petal It Forward
Berhz Bloomz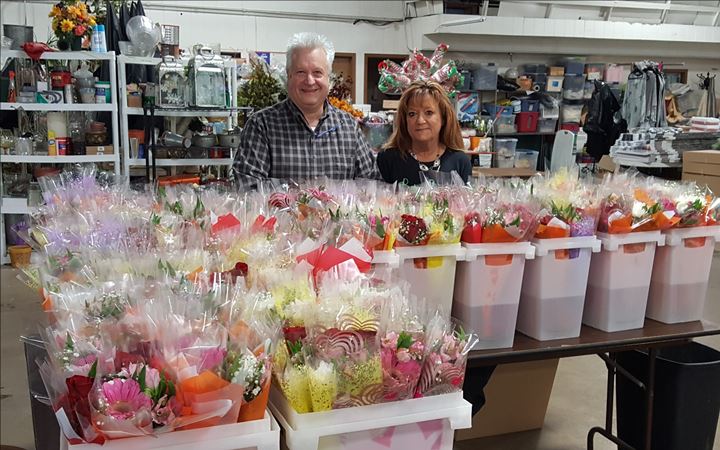 On October 11, 2017, florists nationwide participated in Petal It Forward and randomly surprised people on the street with flowers in more than 450 cities in all 50 states, plus D.C. and Canada. Lucky recipients received two bouquets — one to keep, and one to share with a friend, family member, co-worker, or even a complete stranger. 20 CEO students worked in 10 teams to deliver 500 bouquets prepared by 2 highly organized business owners, Jim Behrens and Stephanie Dusing, which resulted in countless smiles! Our pictures (and there are plenty) really say it all. Enjoy!
---
---
Planning and Participating
With Breakfast Before Business and the Eastland Sophomore visit a week away, class time was spent planning for the events under the guidance of project managers Brendon Riesselman and Andrew Laub. At the same time Isaac Blaney, Jasmine Haggard, and Mitch Clodfelter attended the CEO board meeting and reported on class activities. Students are also finishing up their professional bios which will eventually appear on the CEO webpage. Clicking on a student photo will show their profile and any journal quotes used in past newsletters. 
---
Student Journal Highlights for this week
Also regarding our tour a few weeks ago, I forgot in my previous journal. to address our trip to the Post House. I fell in love with that place. I want to contact them personally in hopes of becoming a volunteer there over the next year. I love the idea of working with some older people that may not have many people in their lives. My grandpa passed away recently, and now with my grandma being all alone all the time, it really hit close to my heart hearing how much they do for the elderly there. I love volunteering so much, and being in that place made me realize how much I have missed the past few months when I have been too busy. I had never previously found a cause that I was truly passionate about that was prevalent in our area, but this may be it for me! I am looking forward to contacting them in the near future. Thank you for arranging that opportunity for us! 

Victoria Dingman
Sunday, October 8, 2017Learn More About Victoria
"Hire people that believe what you believe" vs people that just want the paycheck. As we watched the TED talk on Wednesday, I remembered Jim King at IFH Group. Jim talked about his connections with his employees. Jims' philosophy is his employees make his company money, which also makes himself money.  If he was rude to his employees, the employees could start performing poorly in the workplace, on purpose. Jim communicates with his employees, rather than tooting his own horn and ignoring them. By communicating with his employees, Jim believes it will urge those men and women to work harder and not just for the paycheck.

Another quote that stood out to me during our TED talk was: "Your why should inspire other." Lately, I have been thinking a lot about my individual business. I will be gone most weekends during the winter and spring due to commitment, so I was wanting to get my individual business ideas calmed before the storm. Hearing this quote made me realize I want to do something different than I previously considered.  I want the why in my individual business to inspire others.  

Hannah McCarty
Sunday, October 8, 2017Learn More About Hannah
---