Five Days, Five Locations
Do you know a sophomore or junior who would enjoy the nontraditional classroom. Someone who would love a week filled with five different locations? CEO includes 45-50 business tours and approximately 60 professionals into the classroom throughout the year. The application for 2019 CEO is now available at wacc-ceo.com 
CEO Guest Speakers
---
Paige Wedige, Store Manager
Maurices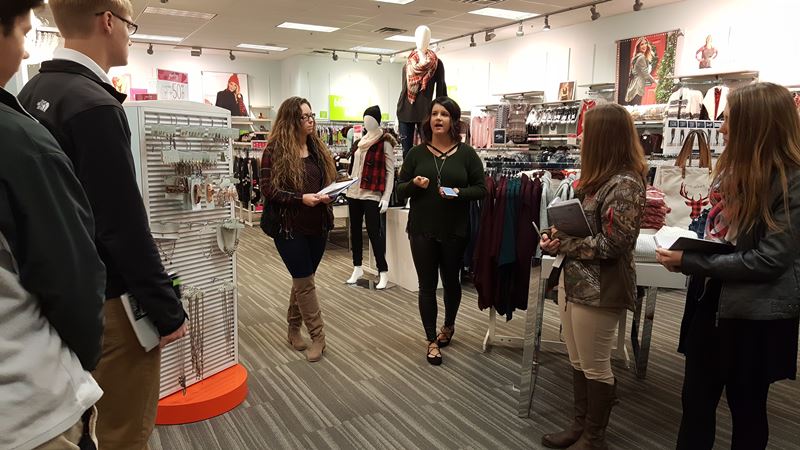 On Monday Paige Wedige, Maurices' Store Manager, gave an overview of the corporate organization and how her store fits in. She mentioned sister brands and the core leadership values of the 86 year old store. Each day, key performance indicators and sales plan goals are reviewed using a Daily Sale Recap document filled with data. Along with Shayla Stamm, first assistant manager, Paige talked about having standard operating procedures for everything, bring brand awareness through community involvement, and the renaming of store workers. (stylists versus sales associates and store leader versus manager) After touring the back of the store, Shayla walked through a scenario of how a stylist approaches a potential customer. Isaac was a great sport as he pretended to shop for "his wife's" Christmas gift. 
---
Mike Ceruzzi
Aarons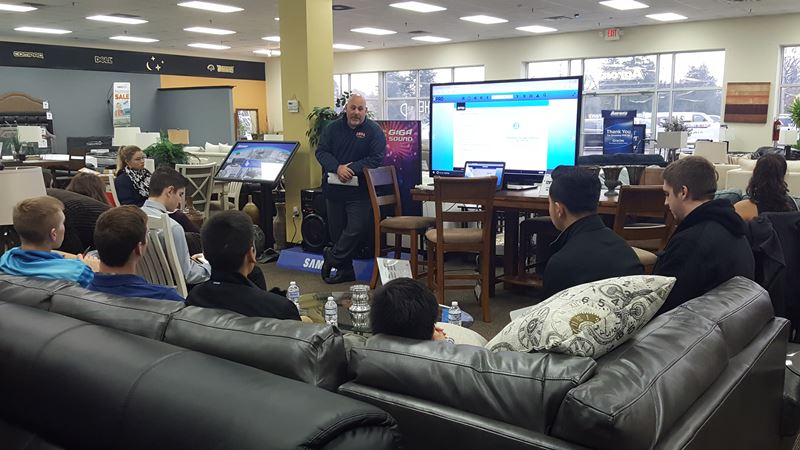 The CEO class visited Aarons on Tuesday. Aarons is a lease-to-own company that specializes in furniture and appliances. The students learned the ins and outs of buying and leasing products as a unique opportunity for customers. As time goes on, the company continues to expand throughout both Illinois and Iowa, seeing as the business is well appreciated by many different customer demographics. Mike Ceruzzi is the owner of several stores, and the students enjoyed learning about his type of business from their wonderful seats on the comfy couches at Aarons Sterling location.
Submitted by Kurt Agravante
---
Leadership
Kim Purvis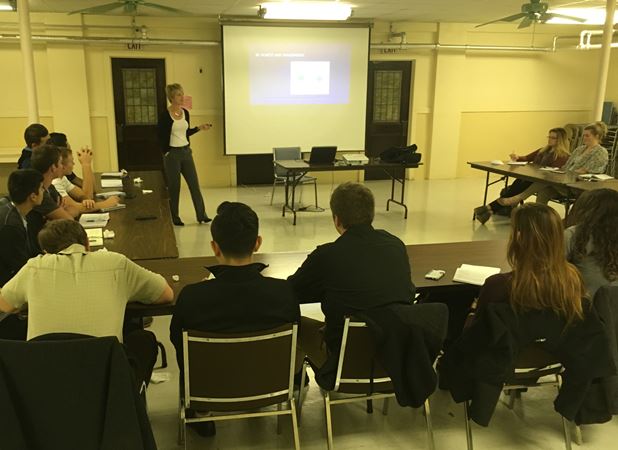 The CEO class went to the United Way of Sterling and received a presentation about leadership from Kim Purvis, someone who was essential in the creation of WACC CEO. She demonstrated a few types of leadership styles and asked the class what style they fit in. She told the class that there are different types of people that must be led: scouts, pioneers, settlers, and complacent. The truth she revealed was that the leadership style depends on who you are leading; however, a good leader always possesses the 3 C's: character, competence, and communication.
Submitted by Isaac Blaney
---
And Your Mentor Is...
After meeting and getting to know the 2018 mentors, CEO students submitted their top four choices and the matches were made! On Thursday the matches were announced and students composed their first official email. We greatly appreciate their time and commitent to the CEO program. 
Aaron Flick-Kurt Agravante, Bo Mays-Victoria Dingman, Brian Hawkins-Isaac Blaney,Chad M Weigle-Mitch Clodfelter, David Buchen-Jack Williamson, David Hellmich-Kallie Timmons,Dawn Olds-Kortney Queckboerner, Denise Young-Hannah McCarty, Emily Zimmerman-Kade Kovarik,Gary Sandrock-Cassidy Wilson, Hannah Gonzalez-Rachel Scidmore, James Keenan-Brendon Riesselman,Jennifer Heintzelman-Maddy Weaver, John Berge-Andrew Laub, Jon Byar-Jose Castro, Katy Selmi-Downs-Hannah Wilson,Linda Hellmich-Sam Hildebrand, Michael Clark-Jasmine Haggard, Ray Sharp-Gehrig Koerner,Savannah Mussington-Anastasia Matias, Scott Hibbard-Nick Clemens, Terry McGuire-German De La Cruz
---
Student Journal Highlights for this week
After coming back to class finally on Tuesday I felt like I had missed so much.  When you are in class it doesn't seem like things change much day to day but after I had returned everything seemed different.  Both class projects had made considerable progress which I was glad to see. I am excited to see where our businesses go.  Listening to Chandra talk this week at Remax was my favorite visit this week.  I was surprised about the advice that she gave us about taking the jobs that seem maybe not so fun right now.  I haven't heard that before, but her reason made sense.  It's about the experience sometimes and not always the little picture you'll get out of it.  I also found it relatable when she talked about taking her job as a real estate agent home and her parents were not pleased.  It is difficult for me to stand up to my parents too, although its not a big problem right now since I am still a kid and under their rule.  When I get older and make a decision about what I want to do for my life I will need to learn to stand up for what makes me happy and what is best for me.  From now on whenever I am doing something I will use the goal setting plan Chandra explained including a stretch goal will make me strive for the best, not just good enough.

Rachel Scidmore
Sunday, November 12, 2017Learn More About Rachel
This last week was really kinda just normal but also good. While it might not have been the most eventful, I was really glad it happened because we got a lot of work done. The dodgeball tournament is going to be a great success, I already know. We don't have a large group but we have, in my opinion, some of the best kids in the class and we have some amazing ideas. I am worried about the dinner however because it can't be done in this community. The amount of people and organizations just doesn't allow an event like this to happen. Plus, like how the dodgeball team has publicity from previous years, the taste of Sauk Valley has left a bit of a bad taste in the mouths of lots of people, especially the businesses they are going to target. I'm just glad that I volunteered for this group because I can guarantee at least one success.

Samuel Hildebrand
Sunday, November 12, 2017Learn More About Samuel
This week really gave me insight about how the whole mentoring process works and what kind of people are involved with this program.  The variety of occupations the mentors had was astonishing to me.  It seemed like they had occupations from bankers or investors all the way to the engineering field.  One question I asked every mentor was "Would you like your mentee to be actively engaged with you or would you like them to touch base with you just every now and then."  Almost every mentor I asked said they would like their mentee to be actively engaged with because they really are here to help.  The mentors that said their past mentees didn't really speak to them said that they wish they would have engaged more because they really did want to help them.  I feel like sometimes, us students, feel like we're going to bother them because they have more important things to do than help us with our problems that we face with starting are business that might not even go anywhere.  One of my goals is to actively engage with my mentor to get out of my comfort zone and try to build some type of relationship with them.

I really hope the mentor program will help me get out of my comfort zone and help me work on skills that I'm lacking

Andrew Laub
Sunday, November 12, 2017Learn More About Andrew
---