Check Out That Machine!
CEO Business Visits
CEO Guest Speakers
---
More Education on Manufacturing
Astec Mobile Screens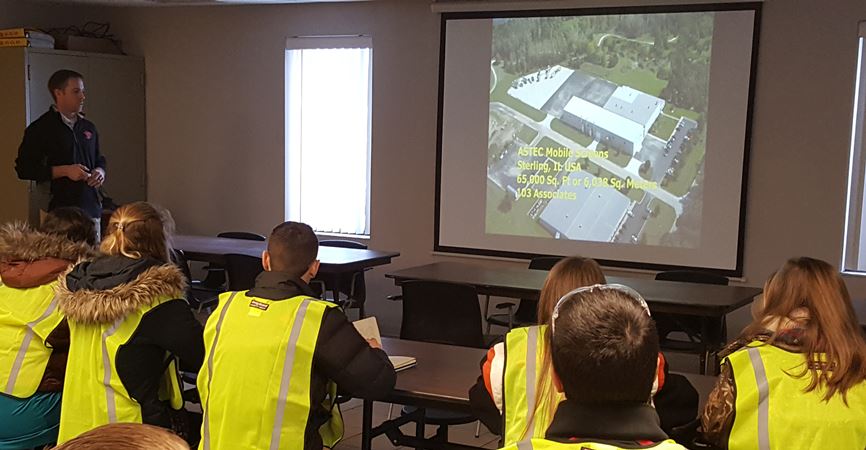 CEO students made quite a fashion statement with their brightly colored vests, ear plugs, and safety glasses, but they quickly learned how serious safety is at Astec Mobile Screens. Tons of steel, heavy machinery, and overhead cranes are a few of the reasons safety is a core value of the company. During Patrick Reaver's overview, students learned AMS is one of about 20 businesses owned by Astec Industries, which works in the energy, infrastructure, and mining industries. As a leader in high frequency screens, Astec Mobile Screens ships the extremely large final products all over the world. Students learned more during a tour given by Ken Ebersole and question/answer session with Regina Thompson. 
---
What's Your Story?
Dr. David Hellmich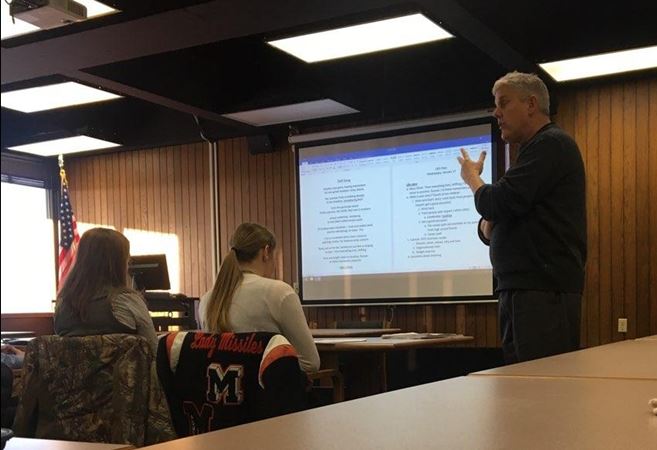 Here is what CEO students thought about Dr. Hellmich's presentation on Wednesday:
Know or try to find your life story.
Sauk runs like a business even though it is a school. They have worked to change the image of the school.
You can be successful no matter how you start out in life.
Extraordinary = build upon your strengths.
Inspiration is everywhere.
Intelligence is no substitute for hard work.
Dr. Hellmich has 10 siblings-his mom is a saint!
Education and treating people right, gets you a long way.
Focus on showing your strengths; not being worried about your weaknesses.
Writing is thinking.
Character is the most important thing in leadership.
Always come back to, "What is your story?"
We would like to thank Drs. Dave & Linda Hellmich for being a WACC CEO investor
---
Thursday, Friday Brings Variety
You name it, they did it! Discuss class business events, check. Practice chamber dinner welcome, check. Recap speakers' presentations for the week, check. Lesson on financial habits, check. Preparation for Monday's commercial kitchen experience, check. Solidify class business events, check. CEO students love visiting businesses and having guest speakers, and value their class time as an opportunity to learn more from each other, solve problems, and work towards successful projects. Students leave class days with action items: who, what, when. 
---
Student Journal Highlights for this week
One of the main things I picked up throughout this week, and for quite a long time while being in CEO, are job opportunities. Sauk Valley bank talked about their 100 employees, Mrs. Morthland talked about how she came to her position at the Incubator, and Halo is building a new building so they can fit all of their employees. Each company needs people of all levels of education and experience, and you do not need to be a "top-dog" in order to have a job at a company. Each of those businesses that I talked about needs a manager as much as they need a janitor. A customer comes into a business and is not just impressed by customer service, but by also the cleanliness. Sauk Valley bank needs not just ladies to sit at the desk taking care of loans, but also ladies that will step up to pop their popcorn every Friday. Ladies that will take that extra step to make the company stand out, and take their position as a loan officer to make the company look good, even though they don't run the company. As I'm writing this journal, there is football playing in the background. Coaches, players, managers, water boys, physical therapists. Without one of these positions, a football team would not fully function. Each career has so many job opportunities, and there is so much to get involved in. CEO is preparing us as students to be the managers, or even popcorn employees, of a business, but that does not mean that we degrade those who decide to be the janitors or water boys of our company. Every employee is important; they make the system work. I have a friend at school who always asks me about CEO, and has told me she is jealous that I have a lot of my life figured out. I remind her that I may have a career choice, but that is destined to change, and there are so many jobs out there that I can always change my mind. For students like my friend, being a janitor seems very degrading. While the janitor is not the manager of a company, students need to understand that every job, no matter the pay or education needed, is important.

Jasmine Haggard
Sunday, January 14, 2018Learn More About Jasmine
---
Alumni Spotlight Entries for this week
I am now currently a senior at the University of Illinois at Urbana Champaign majoring in Supply Chain Management and Information Systems. After graduation, I'll be working at Grant Thornton in Chicago as a IT Advisor.

Thomas Wei
- Class of 2014
---