Sauk Valley Chamber Dinner Highlights
Thursday night the CEO class completed one of three big events they are responsible for this semester, helping with the SVACC Annual Dinner. They worked hard to pull together their vision for Business Beyond Borders and it wasn't always easy. As their facilitator, I watched them go from "the big picture" to working on every little detail, sometimes while disagreeing, but always with respect for one another. If you have worked with this class, you know how special it is to be around motivated, curious learners, but I am the fortunate one who gets to see them every day! My life is enriched because of the this class. Congratulations! Now onward to the Dodgeball Tournament and Taste of Sauk Valley.
Facilitator, LeAndra Hartman
CEO Business Visits
---
Oh That German Apfel Kuchen!
Kitchen Incubator of NW Illinois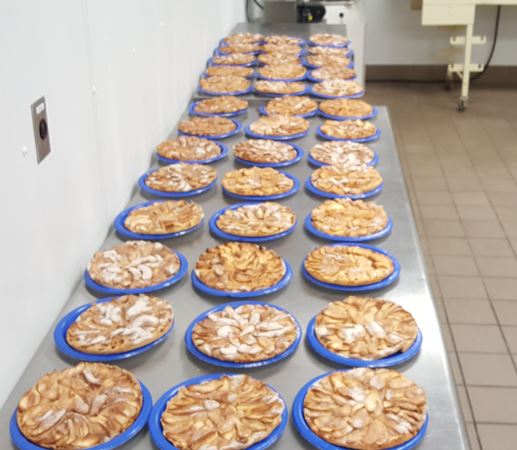 10 teams + 90 minutes = 40 desserts for the chamber dinner. Each year CEO students make the desserts for the Sauk Valley Area Chamber of Commerce Annual Dinner. Why? There a several goals: 
1. Sweat equity-we are willing to put extra work and effort into the event.
2. Practice time management and organizational skills.
3. Learn a new skill! What is a pastry blender, anyway????
4. Building relationships, camaraderie, having fun! Which leads to...
...5. A CEO culture that is positive and productive. 
6. Experience a commercial kitchen and work at the Incubator. 
---
Practice, Regroup, More Practice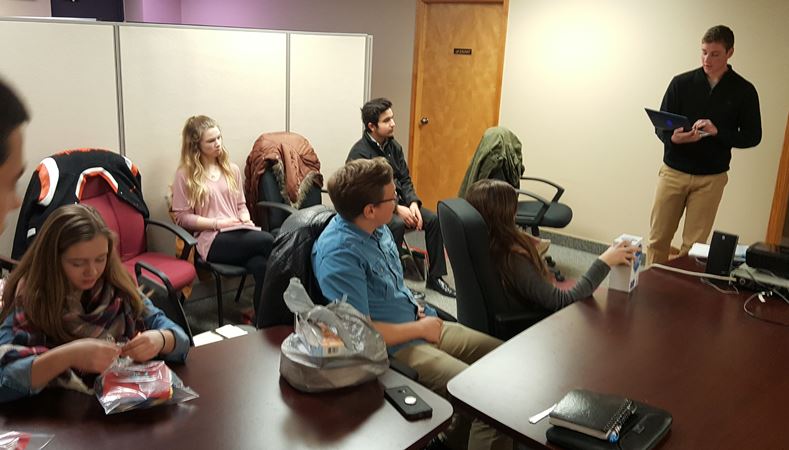 Tuesday found CEO students back at their homebase, Re/Max, reconsidering the final decisions, organizing, assigning tasks, and practicing. With the the chamber dinner days aways, Project Managers, Mitch Clodfelter and Isaac Blaney, make sure the details are covered. 
---
Wednesday and Thursday Set-up
Sauk Valley Community College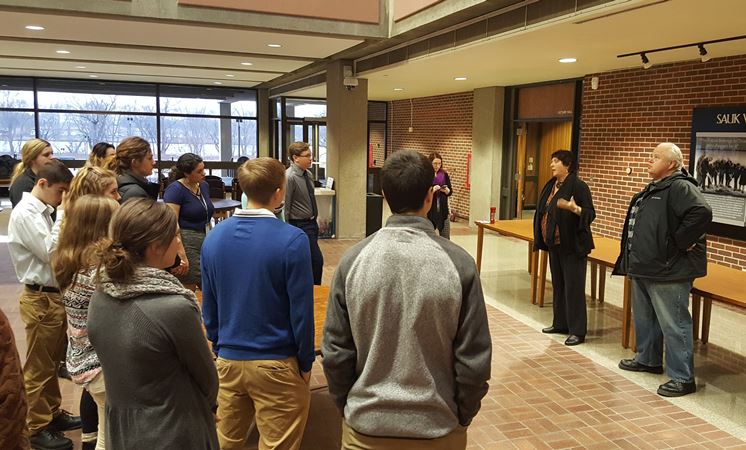 Two days were dedicated to time at Sauk Valley Community College completing necessary tasks to pull off a successful SVACC Annual Dinner. Arranging tables, working on technology, practicing with microphones, and decorating kept us busy. They assigned duties, discussed the "flow" of the night, and prepared for the "what if's."  
---
Business Beyond Borders
SVACC Annual Dinner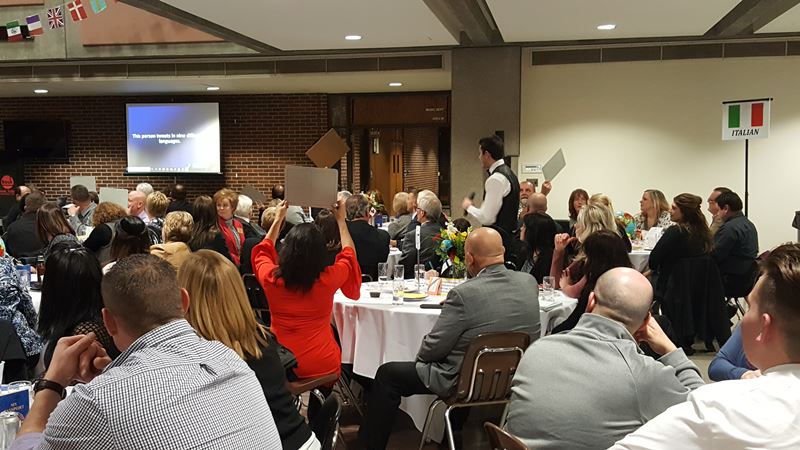 Greeters, speakers, behind the scene supporters, servers, performers: CEO students had the Chamber Annual Dinner covered! The guests enjoyed International Cuisine and Jeopardy Around The World. Their enthusiasm for the triva program was much appreciated as they threw their whiteboards in the air with the hopes of a correct answer!
There are many who helped make the night special, but we are especially grateful to Sauk Valley Area Chamber of Commerce Executive Director Kris Noble who had faith in CEO 2018 to get the job done.
---
Debrief and Improve
CEO students used Friday to enjoy breakfast and critique Business Beyond Borders. There really weren't any serious problems to discuss, but they understand the value of being critical in order to improve. Just as many businesses have mentioned the importance of communication, students agreed there were times that it could have been better. They noted that working the event brought them closer as a team. We truly ended our CEO week with some great laughs and smiles as we watched videos from our kuchen-making lab at the kitchen incubator!
---
Student Journal Highlights for this week
Coming back to CEO was great. The places we visited had a lot of information to give. Out of the three places we visited this week I personally really enjoyed visiting Sauk Valley Bank. I really learned a lot about how to create a business plan. The one page business plans we created for our class businesses were not as into depth as the example business plan of Papa Murphy's. Taking a look at the example business plan looked very complicated. Right now that I am debating on what kind of business idea I should do. My first business plan was to make a landscaping business. But many people have told me that an idea will come when I least expect it and over break I was just watching a movie and I was about to fall asleep on the couch when I soon got an idea of making stir-fried ice cream or sometimes known as Thai style ice cream which is rolled up ice cream. Then I got up and started doing research. Around the Sauk Valley area there is no place which serves this kind of ice cream. A normal cup of stir-fried ice cream goes about five dollars. I did about two hours of research on how to make it. I have learned some techniques but I would have to buy a fried ice cream maker which are not really cheap a good machine goes for six hundred dollars. The ingredients do not cost a lot. I really like this idea but would really like some help with the idea from my facilitators and mentor. Making a business plan for it would definitely help find negatives and positives about my idea. Thinking ahead if I decided to do this I could probably bring in the machine into class time and create everybody some stir-fried ice cream to see what the class thinks about it.

German De La Cruz
Sunday, January 14, 2018Learn More About German
I was thinking about the beginning of CEO this year, and I remember Le had us write down some things that made us mad. A lot of people said how their student council at school is awful because no one cares about other people's opinions and is always interrupting each other. It's so nice to be in a group of people that you know everyone is listening to your ideas and opinions, that doesn't mean they like them but at least we give each other the respect. One thing that really bothers me at the moment is the say:do ratio. I think most people in our class have a pretty good ratio. But it really is upsetting to see some people don't do what they say they can. Which makes me think, 'okay, now if I want these people's trust, I have to do what I say I'm going to do.' It's really a cool thing because I've never thought about things like that before. It applies to so many things in my everyday life. For example, I don't want teachers on my bad side, so I turn in assignments on time. Or if my mom asks me to do something, I'll do it

Hannah Wilson
Sunday, January 21, 2018Learn More About Hannah
I think one of the most important skills that CEO has taught me is how to take charge and delegate responsibilities. It's common for people to think that the leader does most of the work and others just help, but that is so inefficient. When we have project managers, they assign the group and themselves different responsibilities. I think that is so important. Splitting up the tasks gives everyone a chance to take ownership of their job and focus their effort and talent on one thing. Too often we exhaust ourselves trying to do everything. As class president, I am "in charge" of planning prom. Our committee's biggest issue is that everyone is accustomed to giving their opinion on everything. This was getting us nowhere, and we would just argue and go back and forth about things that weren't very important. We disagreed about what crowns to order! We were wasting so much time and being so inefficient. Our advisor gave us a deadline of February to have EVERYTHING done. I talked to my mom and a few of my teachers about what to do and I always brought up delegating each responsibility to one specific person, and decided to go through with it. I figured I would get backlash for it, because we have never done it that way, but CEO has showed me that it really is the best way to go about it. I have gotten super good feedback from both people on my committee, a few teachers, and my advisor. We have accomplished so much by doing it this way and we will definitely make our deadline.I can thank CEO for giving me these skills.

UPDATE: Our meetings are going much better and we almost have everything done! I am so glad I made the decision to switch our planning to delegating responsibilities. Our efficiency and cooperation has improved greatly.

Kortney Queckboerner
Sunday, January 21, 2018Learn More About Kortney
---
Alumni Spotlight Entries for this week
---