Building Relationships
CEO Guest Speakers
---
Recruitment Efforts Underway
Do you know a high school sophomore or junior who is interested in learning business concepts and 21st Century Workforce Skills while in a nontraditional school setting?
If so, they may be a perfect candidate for the 2018-19 CEO class.
*Application found at wacc-ceo.com
*Dates to Remember
March 12: Application packet deadline for submission to guidance counselor
March 15: Counselor submits application packet to CEO Selection Committee
March 19-20: Selection Committee Reviews
---
Midland States Bank

The month of February and March will find CEO students at Midland States Bank, their new home base. They were welcomed by Steve Mortonsen. We look forward to a tour and lesson in the weeks to come.
If you are interested in visiting CEO, stop by Midland States Bank on non-speaker days. Use the south doors, taking an immediate right to the lower level. We welcome visitors. Our schedule can be found at wacc-ceo.com.
---
Crucial Conversations
Jon Mandrell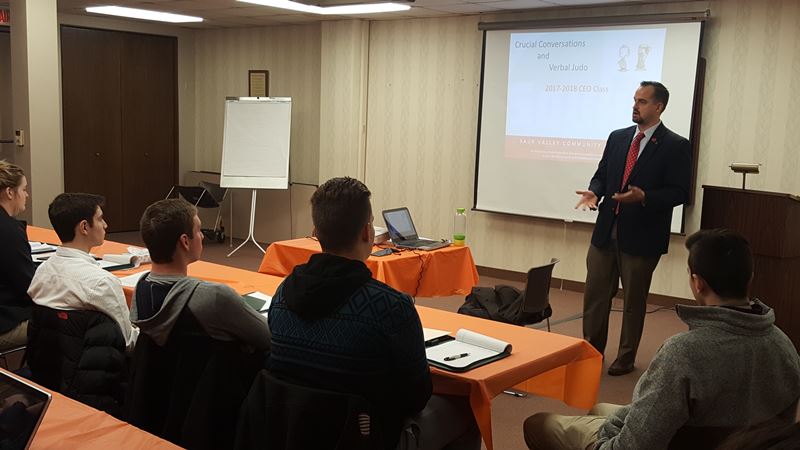 On Monday, students learned that a crucial conversation has three parts: stakes are high, opinions vary, and emotions are strong. Jon Mandrell, Sauk Valley Community College, helped them understand "natural" language and "professional" language and challenged them to think about their conflict styles. He reminded them that avoidance and silence do not mean that things are okay! Be intentional on building relationships and become a positive instigator, were two of many guidelines Jon shared with the class. 
---
Team Problem-Solving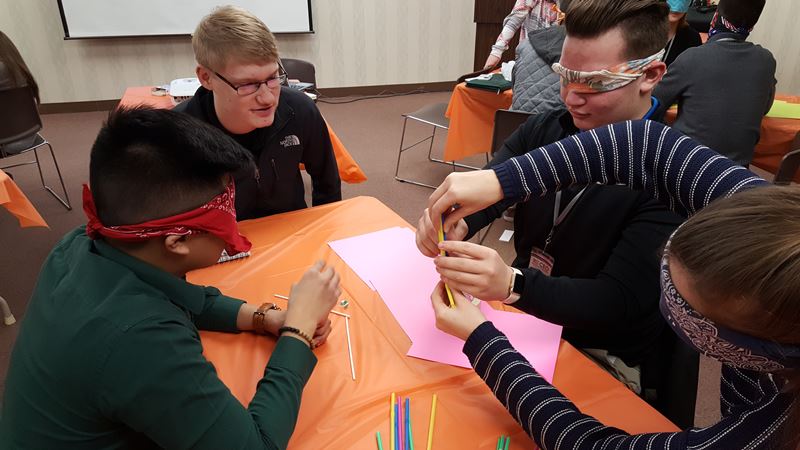 After a weekend of snow accumulation and some long, dreary days of winter, it made sense to take part of a day to practice team problem-solving skills and have some fun. The scenario involved a snowstorm with all five cars carrying CEO students sliding into the ditch. The driver's fingers were numb, making them useless, while all the passengers were "snow blind" and couldn't see a thing. The challenge was to build "shelters" with supplies found in the "car." Once again, communication was key. Students wrapped up the activity and went to work on making good decisions about the Dodgeball Tournament and The Taste of Sauk Valley. 
---
Performance Review
A Panel Discussion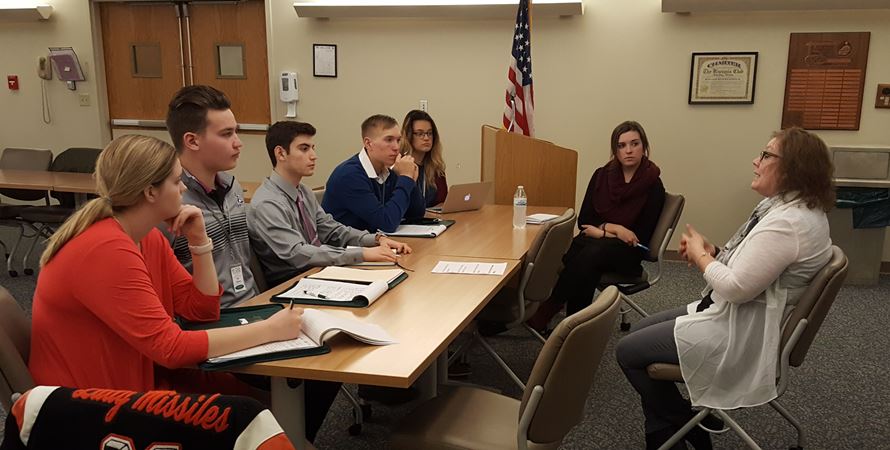 Deana Jones, Wahl Clipper, Mark Hansen, Eastland District 308, and Lance Buser, Walmart DC joined CEO class on Thursday. Class started with a panel discussion on the employment outlook, needed skills, challenges, and  culture in their respective industries. Class member, Kortney Queckboerner helped facilitate the questions. The second portion of class had students in small groups rotating to each speaker, learning more specific information about how employee performance is evaluated. Next week students will create an instrument to measure performance of a CEO student and actually use it to evaluate themselves. 
---
Student Journal Highlights for this week
When I opened this email to write my journal, I had a hard time thinking of everything we did this week. We definitely did a lot, but we were in the classroom everyday. I don't necessarily think it was a bad thing, but now I get why we don't ever have weeks like that. I think we are so efficient that when we complete the tasks given to us for the day, we have a lot of extra time. I also think that it is important to go out and network with business people in the community every week. That's why it was so important for all of us to be at the Rotary meeting. Talking to professionals like that helps us put both CEO and ourselves on a level above an average high school class or kid. This week was important for the start of the second class. We showed the perspective students an honest day in the "classroom." I know that when I applied to CEO I didn't really know anything about it or what it would be like. I just figured I'll either get accepted and find out, or I don't get accepted and it's nit the end of the world. If there was a week like that when I could have attended, it definitely would have helped me during my application process. I brought one sophomore to class this week, and after visiting, she is pretty committed to doing the class. From the students that visited, it is evident that distance is an issue for a lot of schools, including Milledgeville since our students are also from Chadwick. It isn't a problem for Rachel and I, but it is definitely a commitment. I think the second class will help with this issue, and give an opportunity to more students. Even if some of the students that attended class decided they weren't going to do it, it at least showed us that there is a sting interest in CEO. This week was definitely unusual, but it was very important.

Kortney Queckboerner
Sunday, February 11, 2018Learn More About Kortney
---